Ozempic is semaglutide approved by the U.S. Food and Drug Administration (FDA) to help treat patients with type 2 diabetes by helping the pancreas produce more insulin lowering blood sugar. It is also used to reduce the risk of cardiovascular programs. A well-publicized side effect of the weekly injection is that it may help people lose weight.
With increased use of the drug, concern has also risen that prolonged use may lead to gallbladder and biliary diseases, including gastroparesis. It is argued that warning labels did not initially mention the gallbladder-related side effects and that there were no prior warnings to the public. Individuals suffering from gallbladder disease or gallstones after taking the drug might qualify for financial compensation from an Ozempic lawsuit. Lawsuits against Ozempic may lead to a class action.
Ozempic Lawsuit 2023 Update
November 18, 2023: Ozempic Class Action MDL Lawsuit Could Come Summer 2024
A Class Action lawsuit could come as early as summer 2024 against the manufacturer of the popular drug Ozempic. The allegations are that the drug, which helps regulate type two diabetes and assist in weight loss, causes severe gastrointestinal problems. Those who have experienced these injuries claim that pharmaceutical companies Novo Nordisk and Eli Lilly failed to warn patients of the adverse side effects from Ozempic and its generic sister drug Semaglutide.
October 2023:
A research letter filed in the Journal of the American Medical Association alleges the risk of adverse gastrointestinal events associated with the use of GLP-1 agonists that are used not only to treat diabetes but also off-label for weight loss. The research concludes that there is an increased risk of pancreatitis, gastroparesis, and bowel obstruction with the use of the drugs.


August 2023:
The first lawsuit is filed against the makers of Ozempic and its sister drug Wegovy alleging a failure to adequately warn consumers about the potential risk of harm associated with using the drugs. The Ozempic lawsuit, filed against pharmaceutical giants Novo Nordisk and Eli Lilly, alleged that the drugs, both Glucagon-like peptide 1 (GLP-1) agonists, caused severe gastrointestinal issues.
On this page:
What Is Ozempic and How Does It Work?
What is Ozempic?
In December 2017, Novo Nordisk received approval from the U.S. Food and Drug Administration (FDA) for the use of their drug Ozempic as a weekly injectable to help treat adults with type 2 diabetes. The semaglutide is a weekly injectable that helps to lower blood sugar and reduce the risk of heart attack and stroke in people with type 2 diabetes and heart disease.
Though the drug was not initially approved for weight loss, it is increasingly prescribed off-label for this reason since weight loss is a common side effect. Wegovy, a higher dose injectable of the same drug, was approved by the FDA for weight management in 2021.
How does Ozempic work?
Ozempic and its sister drug Wegovy, are GLP-1 receptor agonists. GLP-1 receptor agonists work by slowing digestion through the release of a hormone that not only aids in insulin release but also blocks glucose production. It mimics a naturally occurring hormone that sends a signal to the brain when you are full, ultimately slowing digestion. It is intended for long-term use. Discontinuation of the drug can lead to the regaining of the weight that was lost.
Ozempic Side Effects and Health Risks
Studies show that the use of Ozempic may lead to an increased risk of gallbladder and biliary diseases. The risk may increase the longer that a patient remains on the drug and the higher the dose.
Ozempic side effects may include:
acute kidney injury
biliary diseases
constipation
diarrhea
gallbladder inflammation
gallstones
gastroparesis
Hypoglycemia
liver or kidney failure
nausea
Pancreatitis
suicidal thoughts
thyroid cancer
vision loss
Vomiting
In addition to these adverse health concerns, there is growing concern about a potential link between Ozempic and an increased risk of pancreatic cancer. The side effects of Ozempic do not necessarily go away after the drug is no longer being used. Some patients have reported continued gallbladder issues despite discontinuation of the use of the drug.
The risk of gallbladder problems is pronounced when the drug is used for long periods of time or at a higher dosage which is typically the case when it is prescribed for weight loss. Individuals who have suffered gallbladder-related side effects after the use of Ozempic or Wegovy may be entitled to compensation through an Ozempic lawsuit due to the manufacturer's failure to warn.
Ozempic Manufacturer: Novo Nordisk
Who manufactures Ozempic?
Ozempic and Wegovy are manufactured by the century-old Danish healthcare company Novo Nordisk. Since its inception in 1923, the company has focused on the treatment of diabetes through the extraction of insulin.
Prior to the development of Ozempic, the drug manufacturer sold Victoza, a once-daily GLP-1 injectable. The pharmaceutical company came under scrutiny for promoting Victoza for off-label uses, eventually agreeing to pay a $1.1 million whistleblower settlement. The company also agreed to pay $58 million to resolve lawsuits related to their failure to comply with an FDA-mandated risk program.
Novo Nordisk is currently facing litigation related to its failure to warn consumers about the potential risks associated with the use of Ozempic and Wegovy. New lawsuits allege that the manufacturer failed to put on the warning label the potential gallbladder issues that can occur while using the drugs.
Eligibility Criteria for Filing an Ozempic Lawsuit
Individuals who have received a diagnosis for an adverse health condition after taking Ozempic, Rybelsus, or Wegovy GLP-1 receptor agonist treatments may be entitled to take legal action.
Eligibility criteria for filing an Ozempic lawsuit include:
Proof that you received Ozempic, Rybelsus, or Wegovy treatments;
A diagnosis of an adverse health condition such as Gastroparesis, Stomach Paralysis, Ileus, or Gastric Intestinal Obstruction during treatment or within 30 days of using the drug. Our lawyers are also looking at the possibility of cases involving Pulmonary Embolism and Aspiration
An emergency room visit, hospitalization, or visit with Gastroenterologist, related to the condition.
It is critical to consult with an Ozempic lawyer to determine if you meet the criteria requirements and for state-specific statutes of limitations that may affect your case.
How to File an Ozempic Lawsuit
If you were diagnosed with Gastroparesis, Stomach Paralysis, Ileus, or Gastric Intestinal Obstruction during treatment or within 30 days of using the drug. related to the use of Ozempic or Wegovy, you might be entitled to compensation for your injuries. An Ozempic lawyer can help you understand your rights and determine whether you meet the criteria necessary to take legal action.
An Ozempic lawyer can by:
Offering a free case review to verify lawsuit eligibility;
Collect evidence to support your claim, including medical records and witness testimonies;
Determine state-specific deadlines and statute of limitations;
Handle settlement negotiations; and
Set the case for trial if a favorable settlement cannot be reached.
It is essential that you consult with a lawyer as early in the process as possible. During your meeting, you need to supply the attorney with all of your health information and supporting documentation related to your claim.
Ozempic Settlement Amounts
In Ozempic lawsuits, the primary determining factor in a potential settlement amount is the damages claimed and their calculated value. Since cases vary widely based on their individual damages, there is no standardized claim value. The estimated settlement value for cases involving gallbladder removal or wrongful death, however,  is approximately $400,000 to $700,000.
Damages in an Ozempic lawsuit may include compensation for losses related to:
Healthcare costs
Lost wages
Pain and suffering
Punitive damages
An attorney can help to maximize your compensation by filing a claim based on the full range of available damages. They can also provide guidance on what documentation is needed to demonstrate the value of your losses and negotiate to ensure a fair and full settlement is offered.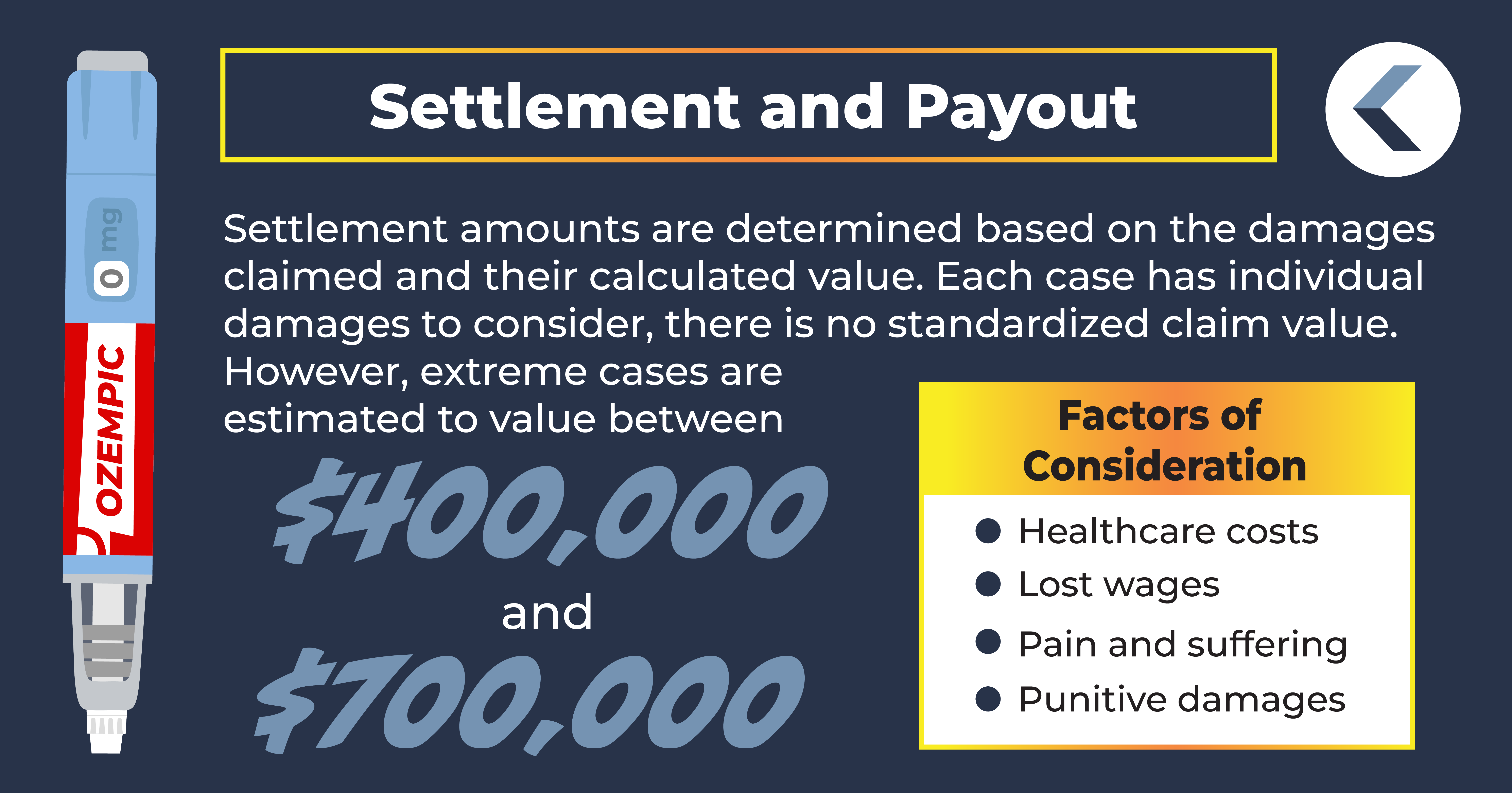 Contact an Ozempic Lawyer Today
At King Law, our Ozempic lawyers provide dedicated representation for individuals who have suffered adverse health conditions as a result of taking Ozempic, Wegovy, or other GLP-1 receptor agonists. We have years of experience advocating on behalf of those injured by dangerous drugs.
Our Ozempic attorneys will work tirelessly to ensure you receive the best possible outcome in your case. Contact our office today to schedule a free, no-obligation consultation. We proudly represent clients nationwide.
Frequently Asked Questions (FAQs)
Is there a class action lawsuit against Ozempic?
As the number of lawsuits against the manufacturer of Ozempic grows, it is anticipated that a class action lawsuit will be filed.
How much is the Ozempic lawsuit going to payout?
While there is no standardized settlement amount. It is anticipated that individuals who require removal of their gallbladder or lost a loved one may receive between $400,000 and $700,000. Lawsuit payouts, however, will vary depending on the damages claimed.
What are the long-term side effects of Ozempic?
Studies show that prolonged use of Ozempic may increase the risk for gallbladder inflammation, gastrointestinal issues such as gastroparesis, and biliary diseases. There is also growing concern that the drug may put patients at an increased risk for developing certain cancers.
What is stomach paralysis from Ozempic?
Stomach paralysis or gastroparesis is a condition where the stomach fails to efficiently process food. Symptoms include vomiting, nausea, diarrhea, stomach cramps, and dehydration.
Can Ozempic cause permanent gastroparesis?
Legal action taken against Ozempic manufacturer Novo Nordisk alleges that the use of Ozempic may cause gastroparesis.
Can Ozempic cause intestinal blockage?
After multiple reports of intestinal blockage, the U.S. Food and Drug Administration added the condition to Ozempic's warning label.
Why is semaglutide being banned?
The use of semaglutide is being banned in some states due to its risk of potential harm and the reports of adverse effects by people who use the drug.
Is semaglutide the same as Ozempic?
Semaglutide is a generic name for Ozempic.
Who manufactures Ozempic?
Ozempic is manufactured by Novo Nordisk.
Is Rybelsus the same as Ozempic?
Rybelsus is a daily oral tablet that contains the same medication as the weekly injectable Ozempic.
Are Wegovy and Ozempic the same?
Wegovy is approved by the FDA for weight management. It contains a higher dose compared to Ozempic, which is used to treat Type 2 diabetes.